Filter by Category
Carbine One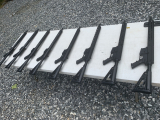 Intro to AR15 Operator
with Randy K

Jul 25, 2021 at 8 am
This class is designed for the new user of the modern sporting rifle known as the AR15. This course is designed to provide understanding of the method of operation, cycle of function, maintainance and inspection, clearing common stoppages, zeroing procedures of iron sights and optics (10 meter), skills and drills related to safe weapons manipulation, handling, rapid target discernment and engagement.
Requirements are: AR15 Rifle, Optic preferred, Sling, 3 magazines, 200 rounds minimum, noise cancelling hearing protection perferred, eye protection (sunglasses acceptable).
Note: This class is intended for beginners looking to learn the necessary skills and knowledge to safely and effectivly operate the most popular rifle in America.